We are Excited to start the 2015 Season!! The shows are going strong, the malls have great discounts, and many AWESOME things to do in Branson!! Don't miss out on Jonah, since this is the last year for performances!
Starting MARCH 5, 2016
Don't miss Mickey Gilley, since he announced this was his last year of shows. Jim Stafford is back in town with shows already going. Don't forget to check out the Clay Cooper Show and SIX which are a MUST to see when in town. A NEW show at the King's Castle is "Puttin' on the Ritz" that looks really good!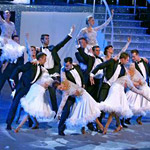 Remember - we still sell discounted tickets for shows, so check with us when you make your reservations. Give us a call to book!!